During your concept testing you must make sure that we not only try to understand what customers need from the solution perspective but also validate your business model i.e. why it makes sense for you to build what you are building? It may also be helpful to do further market validation and analysis to ascertain the size of the market. Overall, I see three validations depicted in the picture below, which you will need to perform when you are in concept testing.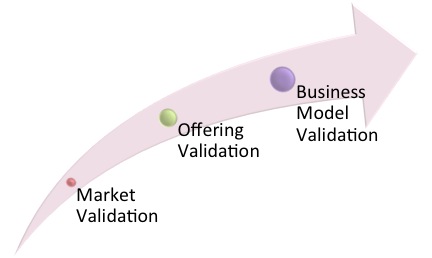 Figure: Validations @ Concept Testing Stage
While doing offering validations, in order to understand customer needs I recommend you ask yourself following questions to improve the customer understanding, which should lead you build better user experience for the solution you are trying build.
Who is/are typical user(s)?
How often customer will use the product?
How many users will use this product? (single user vs. multiuser)
In what conditions will customers use the product?
Who will buy the product? What are the motivations behind buying the product?
How much will be buyers willing to pay for this product?
Also, you must answer whether you are building this because solution similar to yours is unavailable or similar solution is available BUT does not meet customer needs. In either case make sure that along with understanding customer problem and solution attributes you start validating your business model. With business model I mean try identifying answers to important questions such as following to gauge sustainability of your product and company.
How big is your market?
How will you make money (both revenue and profits)?
How will you charge the customers? (one time vs. recurring)
How will you sell the product or solution (direct vs. partners)?
Do you have a competitive advantage, which you can sustain?
Do you have any specific competitive advantage? If yes, what is it? How you will use it?
How are you going to make sure that you have demand for your product?
Are you going to need partners? If yes, of what type and why? What will they get? How will you entice them to do business with you?
When you demonstrated prototype, did any customer show willingness to pay for your product?
When you demonstrated prototype, were customers able to associate with your products value proposition and positioning?
How is your cost structure? How much money will be required in near future? How will you get money?
As you can see while trying to answer these questions you will start understating the customer problems as well as the business which plan to build around your solution.
One thing I must say though…lot of gurus say that…if you don't think you have distinctive competitive advantage then it may not be worthwhile to build offering or product. I beg to differ…because sometimes people don't know whether they have distinct competitive advantage (like one in the cartoon below) OR it is possible to build one over the initial years. The only problem is most funding agencies will not be willing to pay you money because they would demand you have one.